Recently, a friend and I went on a scarf making frenzy. We started with infinity scarves using a tutorial from
Simply Dove.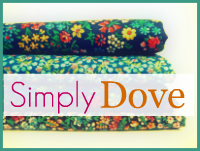 These scarves are super simple. The one shown here was made out of a flowy, thin material. We also made them out of knit and they all turned out very nice.
-------------------------------------------------------------------------
The directions were pretty clear, but I have a couple of extra tips:
When you are cutting the knit fabric, the direction of the grain/stretch matters. Along the scarf, the grain should be horizontal. Along the small strips of fabric, the grain should be vertical. This makes the strips curl nicely.
Stacking the material neatly keeps the knit from stretching too much when you feed it through the machine.
Watch both sides of the scarf carefully to ensure the fabric strips are laid out flat when you sew the two sides of the material together.
All done!